Q&A with Alexandra Violante Ferreira
24 Feb, 2020
This season is all about new attitude. The faint of heart need not apply, we're bringing you a collection where you can expect all the compliments. Animal prints, chunky combat boots, the squarest of toe shapes and the new boot length, just below the knee. 
Our Autumn Winter 2020 campaign was brought to life by Angelo Sgambati featuring Moa Aberg, on a rooftop in sunny downtown Los Angeles.
We took a quick break on-set to sit down with fashion stylist extraordinaire, Alexandra Ferreira to get the inside scoop on what's hot and what's not this Autumn Winter (and some of her life lessons that won't hurt to take note of).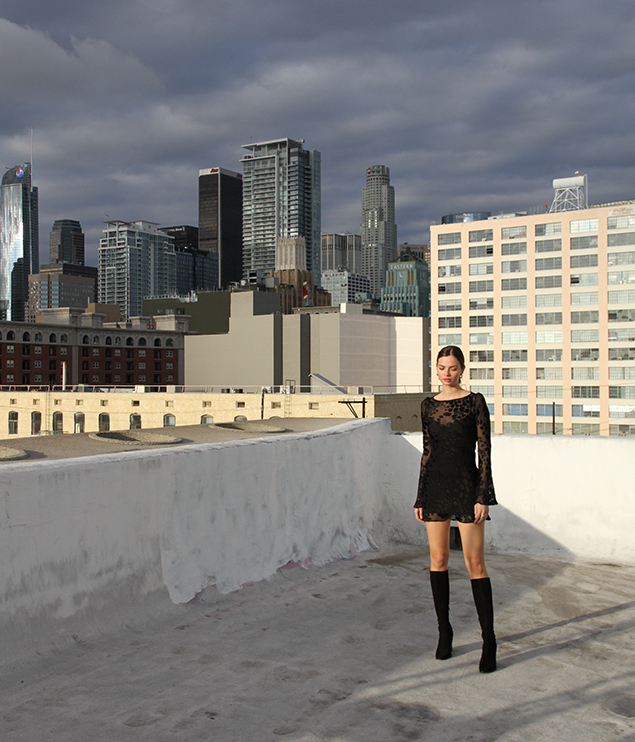 TB: What are the top 3 trends for AW20?
Alex: Oversized blazers, wide leg jeans and neutrals
TB: Which is your fave look from the campaign? Why?
Alex: The sheer Stone Cold Fox dress with the knee-high boots. She looked like a modern-day Jane Birkin
TB: What shoe trend are you getting around this fall/winter?
Alex: The return of the combat boot
TB: What is your style motto?
Alex: Less is more
TB: If you had to pick one piece of style advice to give us, what would it be?
Alex: Don't try too hard
TB: What are the top 5 items we should all have in our wardrobe?
Aex: The perfect white tee, black blazer, blue jeans, trench coat, LBD
TB: Favourite Instagram account?
Alex: @alternatepools
(warning, you're screen time is going to seriously clock up here…pool party anyone?)
TB: Who is the coolest person who follows you on Instagram?
Alex: My brother
TB: Idea of happiness?
Alex: Friends, tequila, sunshine
TB: Worst trend in fashion?
Alex: The chunky sneaker
TB: Best dressed celeb right now?
Alex: Kaia Gerber
TB: What is the one fashion trend you're hoping will make a comeback?
Alex: Classic tailored clothing rather than athleisure
Final words? Tips? Advice for us?
Alex: Sounds corny but just stay true to yourself, it shows when you don't
Follow Alex on insta @alexviolante