Q&A with Elliot Garnaut
09 Jun, 2022
When he's not styling the leading pack of Aussie fashion, his #GarnautGirls, Elliot Garnaut is number one on our how-to hotline for this seasons latest trends.
We sat down with the stylist who's personality is as large as his style repertoire, to find out what's hot (*cue Paris Hilton*) this season.
Elliot, in his contagious fervour, breaks down the key AW20 footwear trends and that deserve a place in your wardrobe rn.
Scroll down for more.
Trend: Stomping Ground
With the world in the current state it is, what better to power dress in than a combat boot?
EG: One of the hottest trends we are seeing for the FW season, the combat boot has almost instantly become a wardrobe essential. Listen up ladies – I want to see a pair on ALL your feet. We don't want to look like a cast member of Mad Max Fury Road however. Pair them with a cool pair of looser fitting black cargo trousers with a matching black tee and you'll go from Commando to Berlin Street Icon in no time.
Trend: Hip to be Square
What are your thoughts on this trend and how would you style them?
EG: A strong 90s resurgence has been dominating our feeds for a couple of seasons now and FW incoming is no exception to this. My tip? Slap these babies on w your favourite pair of Levi's and a vintage tee and you're as good as Hailey Bieber on Melrose Place*.
*Justin Bieber not included.
Trend: Boots with a Bite
EG: Crocodile has always and WILL ALWAYS be my favourite textile. It is the ultimate form of luxury and these additions to your FW wardrobe are no exception. There are no rules IMO when it comes to croc accessorising. Slap it on to elevate any look.
Trend: All The Beige
EG: Tonal dressing – a trend we cannot escape and nor do we want to. We have seen the past seasons depict '50' shades of one colour – eg. Beige on beige on beige. Mix it up this winter. Denim and a white tee, a white shift dress even with black. YES, I said black. I am a full convert of brown and black together. Two years ago, I would have said walk. Now – walk this way!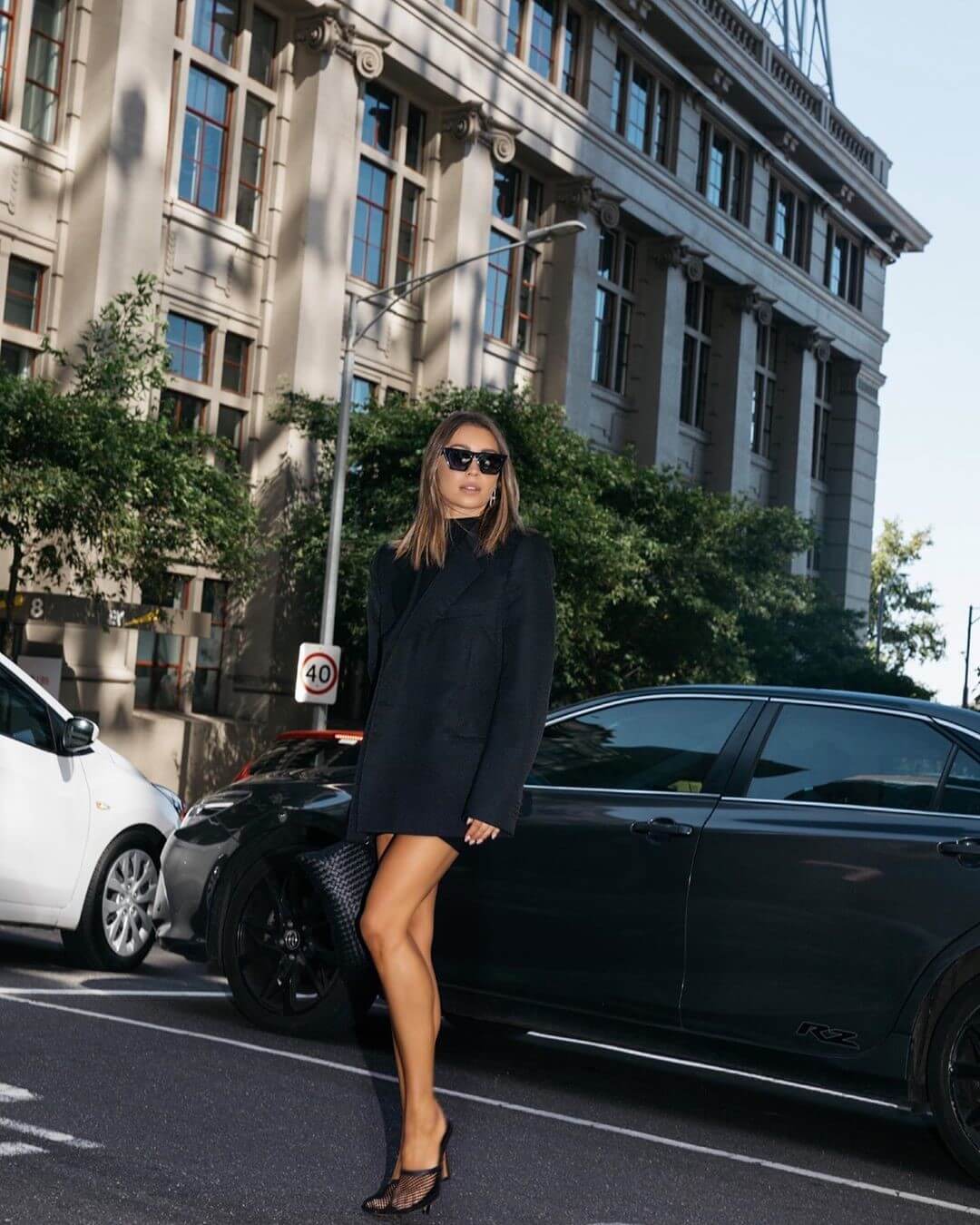 Fast 5:
Worst trend in fashion?
EG: A lack of effort. Thanks for nothing Coronavirus.
Best-dressed celeb right now?
EG: Kendall Jenner. Always. Mrs Bieber VERY close second.
Idea of happiness?
EG: A weekend at my family's property with my best friends and a
sh*tload of wine.
Who is the coolest person who follows you on IG?
EG: @harperthefrenchie – the only dog I've ever met that's been
in Harpers Bazaar.
What is the one fashion trend you're hoping will make a
comeback?
EG: Trends-smends. If you love it and it makes you feel the best
version of yourself… don't give a f*uck about what anyone says.
And one final question – what is your favourite TB x #GarnautGirls look you've styled?
EG: To be honest, my last two! Elyse Knowles and Rozalia Russian
both in Bis. FROTHING!