Trend Alert: Thong Heels
23 Oct, 2019
You heard it here first: the humble flip flops trend is reaching new heights. That's right, we're entering a new chapter in women's footwear that will henceforth and onward be referred to as the 'Rebirth of the Thong Heel'. And to be honest, we're not mad at it at all. When you hear the words 'thong heel' or 'thong sandal', your mind might be forgiven for immediately conjuring up cringe-worthy images of late 90s and early 00s fashion (think Paris Hilton style). But, the revival is oh so much chicer than that, as you're soon to find out. The new and improved thong heel trend, for one, is made using sophisticated leather and will go with everything in your wardrobe, from summer dresses to structured blazers.
Given the direction footwear has been heading in recently, it should really come as no surprise that the thong heel has crept back onto the feet (and into the hearts) of fashion-savvy women the world over. We've stepped out in heels that could almost be confused with a pair of socks, and we now laugh when recalling a time not so long ago when we declared that we'd never wear kitten heels again (as it turns out, these handy shoes have become one of our main wardrobe staples). It was only a matter of time, then, that thong heels would be thrust into the limelight.
Unlike its ugly shoes predecessors, the thong heel is a decidedly chic women's footwear trend. There's plenty of Tony Bianco-approved women repping the trend with easy-to-recreate looks, which we've outlined for you below…
Bike shorts
In saving the most risqué (and Yeezy-esque) of looks for first, the bike short and thong heel trend go together like Summer and Seth, mac and cheese, and sheet masks and a glass of pinot noir. In other words, they were totally made for each other. Just ask dream girl Elisha Herbert, who was recently snapped wearing an all-white outfit consisting of a blazer, bike shorts and thong heels. Whether you're keen to try the all-white look, or would prefer to opt for a black or check blazer, do as she has done and keep accessories and makeup to a minimum and pair with a black leather handbag and a confident 'tude to really let your new shoes sing.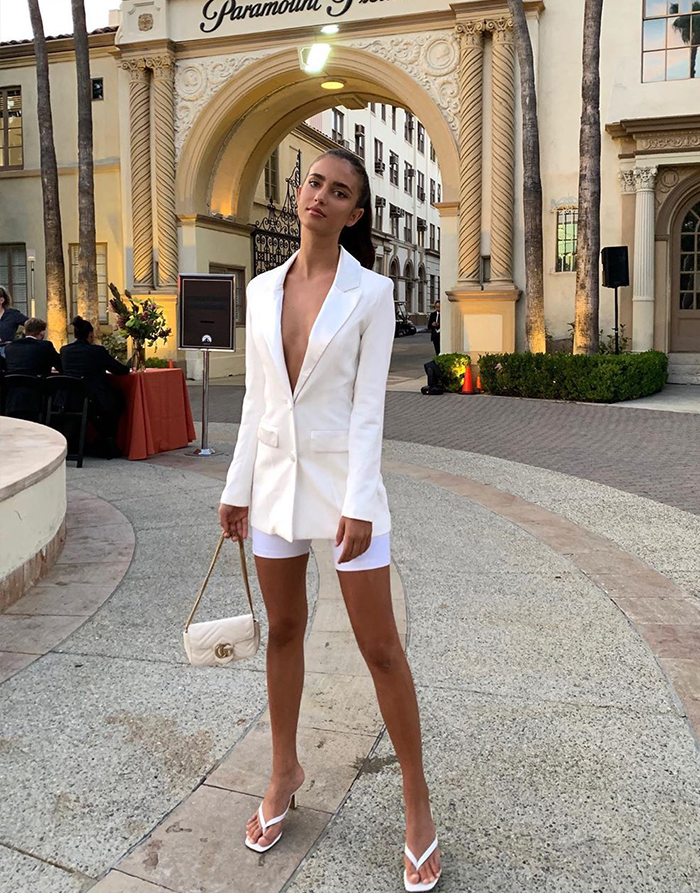 A leather trench
It seems that almost overnight the leather trench usurped the black leather bomber as the model-off-duty jacket. Just ask all the stylish women at Copenhagen fashion week, like Tony Bianco gal Claire Rose Cliteur, who was spotted rocking a leather trench and thong heels with a pair of on-trend sunglasses and a pared-back handbag.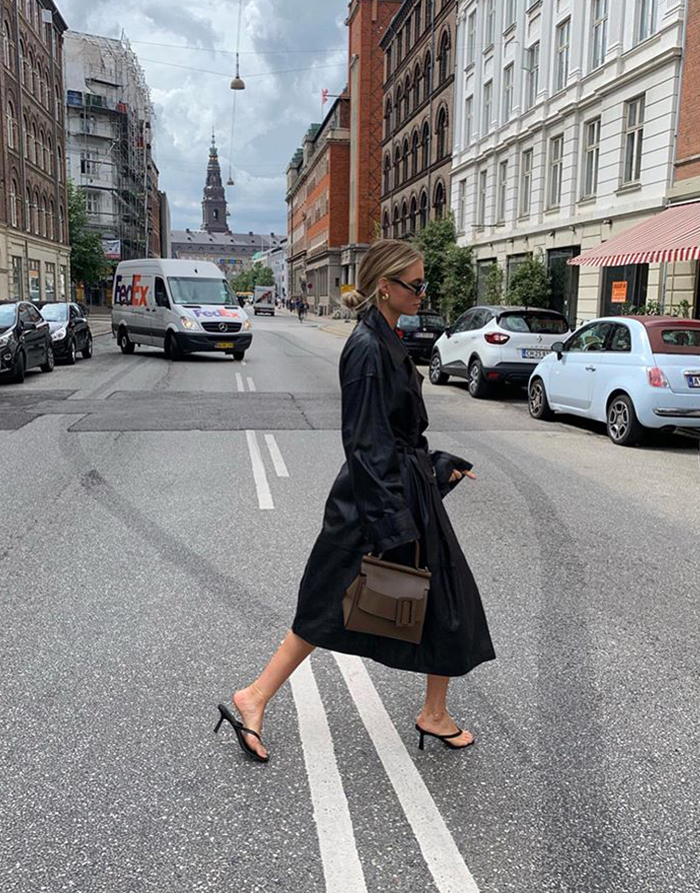 Jeans and a tee
The best way to dress up your casual go-to work lewk—jeans, t-shirt and a black blazer—is by adding a pair of thong heel shoes. Do as perennially cool blogger Andy Csinger has done and add a slew of necklaces and a statement bag into the mix to take the outfit to the next level of chic.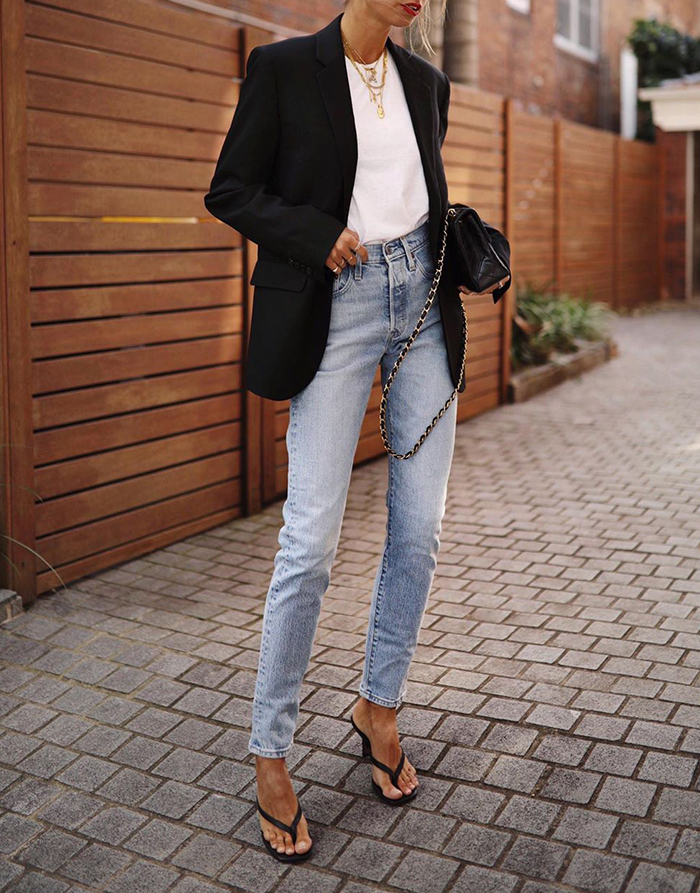 A silk midi skirt
This season, it's all about coordinating colour palettes in your outfit, and once again Copenhagen blogger Claire Rose Cliteur shows us how it's done. For a chic head-to-toe look, opt for a silk midi skirt, singlet and light sweater combination all in a muted colour palette, like beige or olive green. If you're after something a bit more demure, opt for an outfit comprising entirely of black. The missing piece to the incredibly sophisticated outfit puzzle? A pair of thong heels, of course.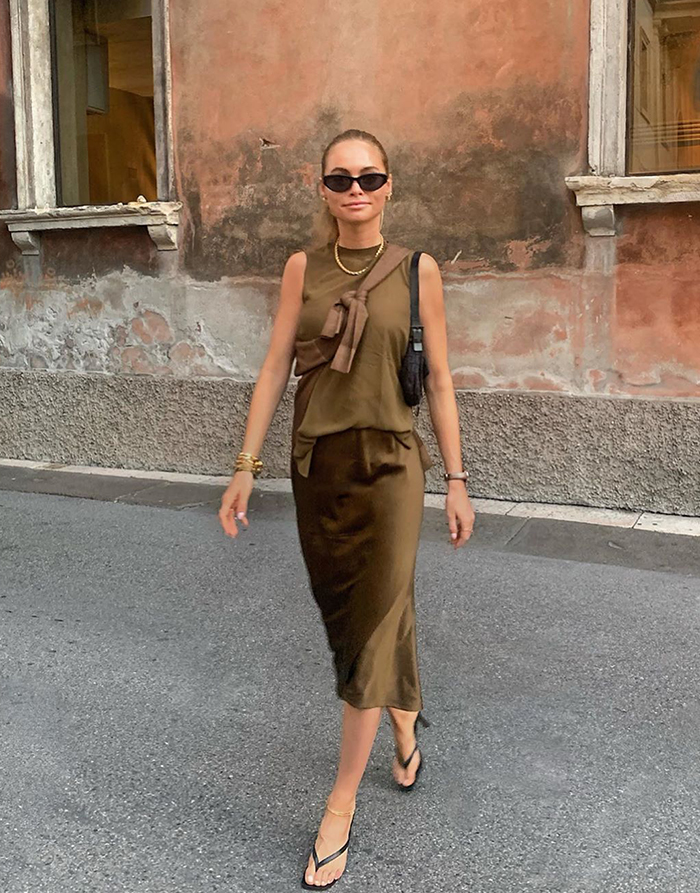 A TGIF-approved dresses
So you're heading out to drinks with the gals? Look no further than the trusty LBD to keep your thong heels company. Dream woman Marie von Behrens has outdone herself by pairing her thong heels with a leather mini, but if that's a touch outside your comfort zone, puff-sleeve dresses and long slip dresses will have the same W-O-W effect. Add a bomber jacket for chillier evenings, and you are ready to paint the town red (read: fabulous).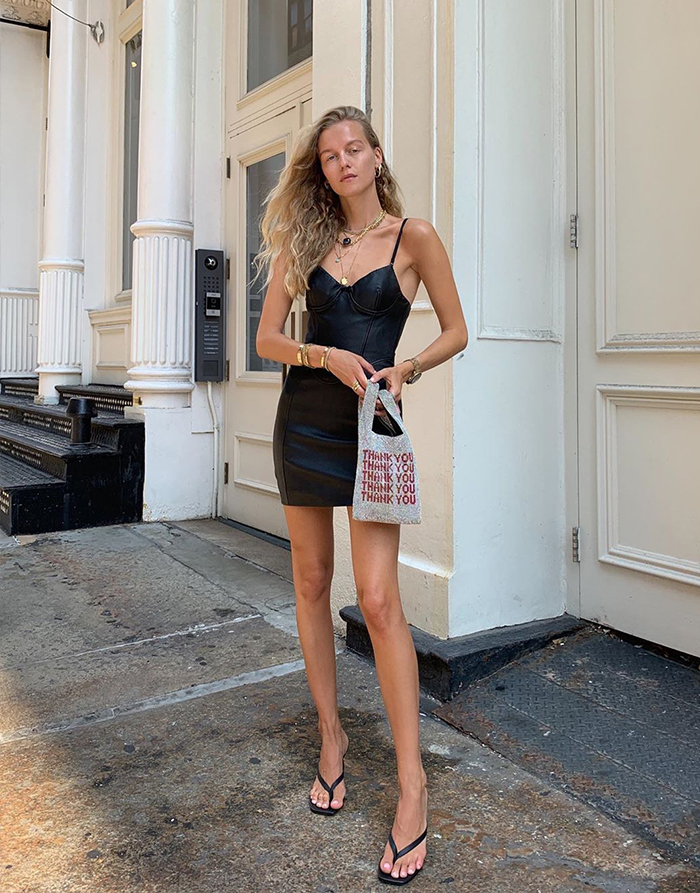 And there you have it, folks! A comprehensive guide to working the thong heels into your summer wardrobe. Because, in the enduring words of Sisqó, it's all about that "thong th thong thong thong" this season.
Head here to shop our range of thong heels for yourself and make sure to follow us @tonybianco so you never miss out on style inspo again.